Mrs Monika Muszynska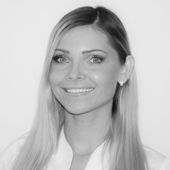 HEAD DENTAL NURSE/RECEPTIONIST - GDC NUMBER: 253848
"I've had the pleasure of working at Lodge Causeway Dental Centre since January 2009," says Monika, who loves working in a job where she gets to help and support people every day.
Monika completed her dental nurse training whilst working at Lodge Causeway. Now fully qualified, she believes she has found the right Bristol dentist to help her achieve her ambitions. "I think you need to work with a smile on your face – there's a very good atmosphere here that makes it easy to do that. I think that's just one of the reasons Bristol dental patients choose Lodge Causeway. Since 2013 she has been enjoying her role as Head Dental Nurse at the practice.
"When you are choosing a new dentist you have to feel that you can trust them. Our patients come to us following recommendations from friends and family who trust us. And once they've had their first appointment with us, they don't want to go anywhere else."
Monika's a working mum and spends her free time with her family.
Call 0117 9586 878
We'd love to treat you and your family. To book an appointment please call us or complete the form below.